Hotel Tallukka has seven different saunas that vary in size. Having a sauna is the perfect way to relax after a swim in our 20-metre swimming pool. We warm the saunas for our guests in the mornings and evenings: Mon–Thu 17:00–19:00, Fri-Sat 17:00.20:00 and Sat–Sun 08:00–10:00.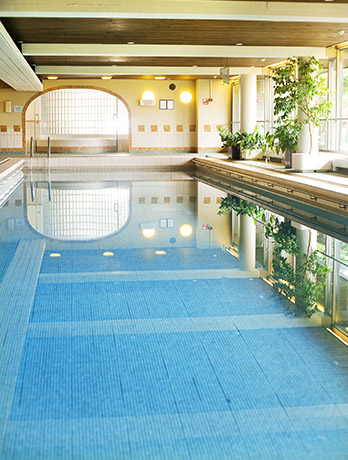 The pool department is free for all our residents to use. The pool department is open at the following times: Mon 10.00 - 19.00, Tue - Thu 8.00 - 19.00, Fri - Sat 08.00 - 20.00 and Sun 8.00 - 12.00.
As a guest at the hotel, you can also reserve a sauna for private use at a time to suit you. In addition to traditional Finnish saunas, we also have an infrared sauna. Ask our sales team for details.

Treatments must be booked by the Friday a week before your arrival at the latest. Make the reservation by phone +358 3 888 81 or by email to sales(at)tallukka.fi.
Infrared sauna
The health-enhancing and relaxing infrared sauna activates your metabolism and removes toxins from your body.

Hotel Tallukka has two infrared saunas: one at the gym which our customers can freely use and other which our guests can reserve by contacting our sales team.
Salt room
Treatment is in a salt-lined room. When you breathe in, the salt dust enters your body and reduces infections and removes mucous from your airways.

The salt eases your breathing by thinning thickened mucous membranes. It also hydrates the skin and helps keep it supple.