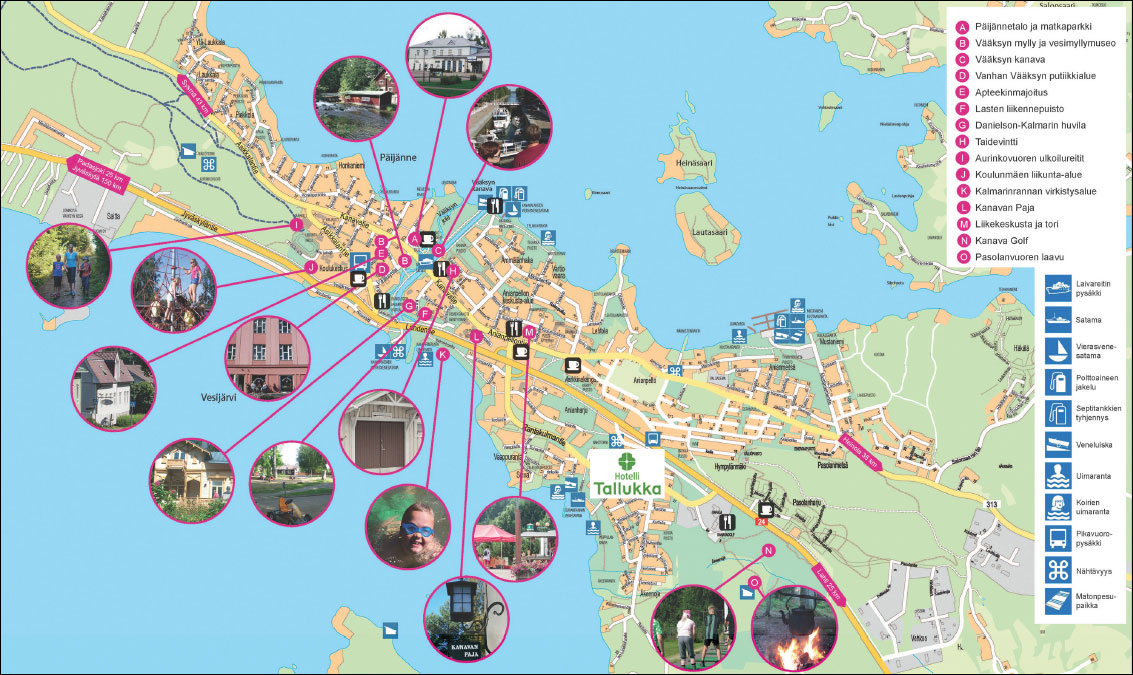 Map of Vääksy
If you fancy a short stroll, there are lots of interesting places to explore in the neighbouring village of Vääksy, especially in the summer.
More information about Vääksy is available from the municipality of Asikkala's
tourist website
.
Hotel Tallukka is at the southern end of Lake Päijänne and the whole area is full of attractions, and scenic beauty spots, the most famous of which is probably the Pulkkilanharju Ridge. Not to be missed if you have a car, as it's less than 20 kilometres from the hotel.
The city of Lahti is just half an hour from Hotel Tallukka by road, and offers a wide range of sporting, cultural and tourist activities. More information can be found on the official Visit Lahti website.
In summer, there are boat trips to and from Lahti that pass through the Vääksy Canal. A lake cruise can be the perfect way to spend a long, relaxing summer day. Most of the trips start from Lahti Harbour.
Fans of music and culture might enjoy a visit to Sibelius Hall, situated right next to Lahti Harbour. The building itself is a beautiful wood and glass structure, which comes alive when there is an event or concert. The Lahti Symphony Orchestra often play concerts there.
Museums are a great option when the weather's not so great; Lahti City Museum houses several collections in various locations around the city centre, and these include a number of interactive exhibits.
The Finnish Motorcycle Museum in Lahti has over 100 motorcycles and historical items related to motorcycling. Details of opening times and prices are available on the museum's website.